Wessex Hull White
This week's blog is all about our amazing Hull White!
Wessex Hull White is a gel formula designed to effectively remove yellow/brown stains from fibreglass hulls, leaving them clean and bright and ready for a polish!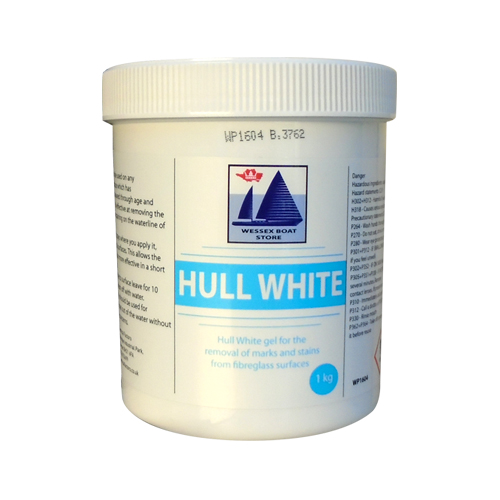 Our innovative hull white is a superb replacement for oxalic acid, which has been used to clean hulls in the past but is no longer available for some of our customers due to changes in legislation.
On 26th March 2015 the Poisons Act 1972 was amended by the Deregulation Act 2015, and it introduced 'The Control of Poisons and Explosive Precursors Regulations 2015'. The aim of the new regulations was to control the sale of both explosive precursors (that could be used to make homemade explosives) and poisons, in particularly acids after a spate of acid attacks.
As a result, it meant that members of the public could no longer purchase oxalic acid unless they had a poisons license. The good news is that our Hull White is not affected by this change in the legislation and so can be purchased by anyone!
Wessex Hull White is an innovative mix of organic polymer gelling agents, surfactants, glycol based solvent mixtures and oxalic acid. The oxalic acid levels in Hull White are below the level controlled by regulations and so can be brought and used by members of the public.
Hull White can be used on any fibreglass surface and is effective at removing brown and yellow stains caused by aging and weathering and it won't damage the gel coat!
It was designed to be a gel to make it easier to apply but also so that it would stay in place for longer, even on vertical surfaces. We recommend that you apply Hull White with a brush, covering the area you wish to clean. It is best to decant the hull white into a separate container to avoid contaminating the remaining product.
If you are undertaking a regular maintenance clean then we recommend that you leave the hull white in place for around 30 minutes before washing it off with a pressure washer, hose, or brush.
If your hull is heavily stained, then we recommend that you apply a light coat of Hull White and leave in situ for around 30 minutes before applying a second coat. Leave this in situ for around 60 minutes and then rinse off as above, with a pressure washer, hose, or brush. Once the product is well rinsed off you can apply a polish if required.
Wessex Hull White is available in 500g or 1Kg tubs. Follow the link below to the website page.
Hull White 1kg – Wessex Boat Store
As with all our products we strongly recommend that you read the Technical Data Sheets and Safety Data Sheets before use. These are available on our website. Follow the link below to the Hull White SDS.